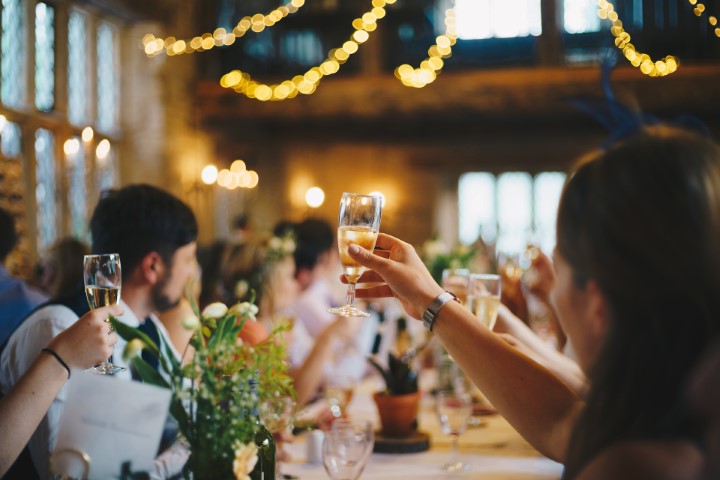 Imagine saying your vows in the midst of Nashville's alluring charm amidst its legendary music scene and classic southern elegance. As Nashville emerges as a sought-after wedding destination, couples are drawn to its enchanting landscapes and vibrant atmosphere.
This article delves into the allure of planning a scenic destination wedding in Nashville, offering insights into its popularity, ideal seasons for weddings, picturesque venues, and a premier location that stands out—The Estate at Cherokee Dock. Join us on a journey to discover the perfect blend of romance and celebration in Music City.
Nashville: The Enchanting Wedding Destination
Nashville, with its harmonious fusion of culture, history, and modernity, has cast a spell on couples seeking an extraordinary wedding experience. Renowned for its pulsating music scene, the city resonates with an unmistakable rhythm that adds an unparalleled charm to weddings.
Nashville, a city steeped in southern traditions, welcomes couples and guests alike with a warm embrace, making it an ideal setting for celebrations. The picturesque landscapes of the city, from verdant parks to tranquil lakeshores, provide a breathtaking backdrop for unforgettable moments.
As love stories unfold against the backdrop of Nashville's vibrant streets and serene corners, it's evident why this dynamic city has evolved into a magnet for couples seeking an enchanting destination to say "I do."
Ideal Seasons for Nashville Weddings
Choosing the right season for your Nashville destination wedding is pivotal to curating the perfect ambiance. Nashville's distinct seasons offer diverse settings, each with its own unique charm.
Spring unveils a tapestry of blooming flowers and mild temperatures, setting the stage for outdoor ceremonies. Summers are synonymous with vibrant festivities, featuring lively outdoor events and longer daylight hours. The colorful foliage of autumn paints a romantic backdrop, while the mild climate remains ideal for outdoor celebrations. Winter brings a touch of magic as the city transforms into a cozy wonderland, perfect for intimate indoor weddings.
Additionally, aligning your wedding with local events and festivals can infuse your celebration with the city's dynamic energy. Whether your ideal wedding takes place beneath dogwoods in bloom in the spring or in the crisp air of autumn, the four seasons of Nashville offer a variety of enchanting options.
Exploring Scenic Wedding Venues in Nashville
When it comes to hosting a scenic destination wedding in Nashville, the city's array of wedding venues caters to a diverse range of preferences and styles. Among the options, lakeside weddings stand out as a picturesque choice, offering tranquility and natural beauty that elevate the romantic experience. From charming gardens to elegant estates, Nashville's venues provide the canvas for couples to paint their dream wedding.
Lakeside weddings, in particular, embrace the serene waters as a backdrop, creating a serene and captivating atmosphere for exchanging vows. Imagine the soft ripples of the lake mirroring the love shared between two people as they embark on their journey together.
These venues are thoughtfully designed to capture the essence of Nashville, frequently combining modern amenities with the city's historical allure. Whether couples envision an intimate gathering or a grand celebration, Nashville's venues accommodate a variety of sizes and tastes.
From lakeside gazebos to historic manors nestled in lush greenery, each venue offers a unique perspective on Nashville's allure. As couples embark on their wedding planning journey, the city's diverse venues serve as a testament to its ability to accommodate every love story, crafting memorable moments that become cherished parts of the city's vibrant tapestry.
The Estate at Cherokee Dock: A Premier Wedding Venue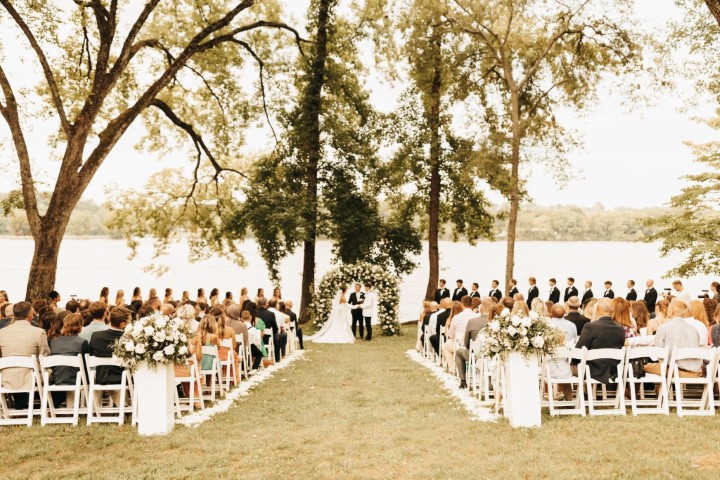 At the pinnacle of Nashville's wedding venues is The Estate at Cherokee Dock, a true gem that captures the essence of romance and luxury . Nestled on the shores of a tranquil lake, this premier venue is a haven for couples seeking an exquisite destination wedding. The Estate at Cherokee Dock boasts a collection of stunning venues, each with its own distinctive charm, allowing couples to curate a wedding that aligns perfectly with their vision.
The allure of lakeside weddings takes on new heights at The Estate at Cherokee Dock. With its breathtaking scenery encompassing serene waters and lush surroundings, this location offers an unparalleled backdrop for romantic celebrations. The blend of modern amenities and historic elegance creates an ambiance that transcends time, making every moment feel like a fairytale.
What sets The Estate at Cherokee Dock apart is its commitment to providing an additional services that cater to every aspect of wedding planning. Couples can relax and savor every moment knowing that an experienced staff is committed to bringing their dream wedding to life, from professional event coordination to impeccable catering and decor.
As the Estate's dedicated team orchestrates the details, couples can focus on what truly matters—the start of a beautiful journey against the enchanting backdrop of Nashville's finest.
Creating the Perfect Wedding Experience
Crafting an unforgettable wedding experience requires meticulous planning and execution, and The Estate at Cherokee Dock excels at making this dream a reality . The services the Estate at Cherokee Dock offers couples a seamless and stress-free journey from the initial vision to the last dance.
The experienced staff at The Estate at Cherokee Dock understands that each love story is unique, and they take pride in tailoring every detail to reflect the couple's personalities and desires. From conceptualization to execution, their dedication ensures that every aspect of the event is thoughtfully orchestrated.
The Estate at Cherokee Dock's commitment to excellence extends to every facet of the wedding, including delectable cuisine, elegant décor, and flawless coordination. Couples can revel in the joy of their celebration, knowing that a skilled team is managing every nuance.
As couples step into their new chapter, The Estate at Cherokee Dock stands as a partner in creating cherished memories. The Estate at Cherokee Dock promises to make visions a reality with its combination of idyllic landscapes, premier venues, and attentive service, all against the backdrop of Nashville's enchanting allure.
Planning Your Dream Destination Wedding
Planning a scenic destination wedding in Nashville involves careful considerations to ensure a seamless and memorable event. Begin by establishing a budget that accommodates venue costs, catering, accommodations, and other essential elements.
Research local vendors with experience in destination weddings and consider guest accommodations for a comfortable stay. Whether it's a lakeside wedding or another picturesque venue, keep the seasonal climate in mind when planning the date. Transportation logistics and local attractions for guests can also enhance the overall experience. With thorough planning and the allure of Nashville's charm, couples can create a destination wedding that reflects their unique love story.
As the curtains draw on this journey, the allure of a scenic destination wedding in Nashville remains irresistibly enchanting. The harmonious blend of music, history, and natural beauty creates an idyllic canvas for love to flourish. Whether exchanging vows by the serene lake at The Estate at Cherokee Dock or amidst the vibrant streets of Nashville, the city's charm lingers in every cherished moment.
With its vibrant seasons, picturesque venues, and dedicated services, Nashville continues to beckon couples, inviting them to script their own romantic chapter in this captivating city.