Are you looking for inspiration for your wedding venue decor? No matter how stunning your wedding venue might be, you'll want to make a plan for some wedding venue decor. Even the addition of a few flowers here and a few fabric drapes there can elevate your venue space in an incredible way. This will truly bring the magic and romance of your wedding day to life. Don't underestimate the power of some decor at your wedding venue!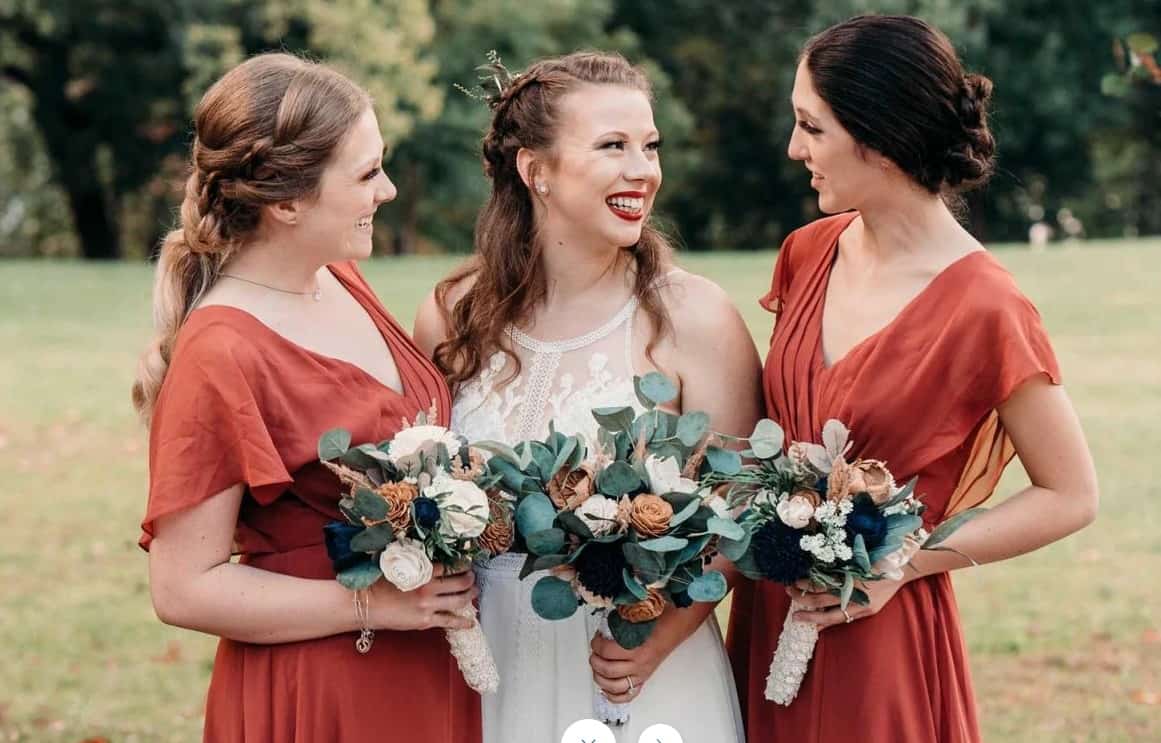 What Can I Expect From My Wedding Venue?
So, what can you expect your wedding venue to provide for you on your wedding day? It really depends entirely upon the wedding venue. Some venues are beautiful, but they only provide the venue itself. They might have some suggested vendors that you can work with to supply what you need for your big day. Some other venues might provide many more things for your day such as chairs, tables, linens, and even plateware, silverware, and glassware. It is important to discuss these things with your venue owners before you book them, especially if you aren't planning on finding vendors for some of these things.
Our Top 10 Wedding Venue Decor Ideas
We've researched current wedding decor trends to bring to you some of the best and most creative decor ideas for your wedding day. Depending on the vibe of your wedding day ceremony versus your wedding reception, you might even incorporate a few of these ideas in different areas. So, in no particular order, here are our top 10 favorite wedding venue decor ideas.
1. Artificial Flower Wall
If you have an empty space that looks like it needs to be filled with a backdrop, consider constructing an artificial flower wall! You may have seen this trend created with fresh flowers. However, a fresh flower wall is very pricey, and it can be difficult to prevent wilting since the flowers need to be constantly watered or sprayed. Using artificial flowers can prevent some of these issues. Wood flowers are a great choice for artificial wedding flowers because they are easy to use and low maintenance. You can use a piece of plywood with some chicken wire as a base for your floral wall. You can even use hot glue or super glue when you're attaching artificial flowers. Then you'll have a great backdrop for your reception line, your ceremony, or even your bar. Your guests might even love to take pictures in front of your flower wall.
2. Chiffon Ceiling Drapery
If your wedding venue has tall ceilings that need a little bit of sprucing up, you should use some chiffon (or similar fabric) to decorate the ceiling. You can use fishing wire, poles, or existing ceiling beams to hold up the drapery. These romantic, curving drapes of fabric will create an ethereal, romantic enviornment that your guests will be in awe of.
3. Staircase Florals
If your wedding venue has a staircase that you're planning on using to make your grand entrance, then you have a great opportunity to decorate it with some florals. You can create a floral garland that will wrap around the railing of the staircase in a maximalist, high-impact manner. You can also go for a floral look that is a little bit more simplistic by placing some greenery and loose flower sprigs on the outer edges of stairs themselves, along with a few romantic candles.
4. Overhead Floral Installation
If you want to have more flowers for wedding venue, consider adding an overhead floral installation to your plans. You can have hanging floral arrangements that dangle over your reception or luncheon tables. You can also create a floral cloud that hangs over your reception line, ceremony altar, or reception dance floor. This trend is especially beautiful when you use baby's breath and spray paint it different shades to match your wedding colors.
5. Reception Party Balloon Arch
Do you want a bright, dramatic pop of color to enhance the party mood of your reception? If so, you should include a reception party balloon arch in your decor plans. You can order balloon arch sets online that will supply you with all of the balloons and supports that you need to create a stunning balloon arch. (Pro tip: it goes really fast if you have a balloon air pump!) You can find balloon colors that match your wedding colors for a gorgeous result. If you have more of a casual, modern aesthetic for your wedding, you'll love this trend.
6. Fairy Light Canopy
If your wedding venue is feeling a little dark, dull, or boring, try lighting it up with some gorgeous fairy lights. You can even make a canopy of fairy lights that goes overhead of your reception dance floor or reception tables. This trend is also beautifully installed in an outdoor wedding venue. You'll just need some supports for the fairy lights, but you'll be left with a stunning, star-like result that matches the night sky.
7. Floral Chandelier With Lights
If your venue has some chandeliers or lighting that looks a little bit too plain, you can decorate it with some florals. You'll just need to attach them with some floral wire or tape. If you use fresh flowers, you'll have to be careful that watering or misting them isn't hazardous when paired with the electricity of the lighting. Or you can use wood flowers or other artificial flowers for a gorgeous, stress-free floral chandelier look.
8. Marquee Lights
If you want a modern pop of drama at your wedding reception party, you should really consider adding some marquee lights to your decor layout. You can spell out all sorts of cute things with giant, light-up marquee light letters. For example, you can spell out the initials of you and your fiance, your new married last name, or even a cute saying like "together forever." This huge, dramatic statement of marquee lights could be the perfect decoration for your dance floor. Plus, the lights of the letters will cast a romantic glow on your special wedding party. Just make sure your wedding photographer takes plenty of photos with your marquee lights in the background!
9. Floral Table Runners
Another fun way to incorporate flowers into your wedding venue decor is to create floral table runners. These installations will go the entire length of your tables at your venue, adding pops of color and fragrance. If you want a maximlaist floral table runner, you'll want to use some floral foam as a base, allowing you to create large, tall installations that will spring out of the center of your table. You can also create a minimalistic floral table runner with a few simple vines of greenery paired with fabric drapes, candles or other decor pieces.
10. Vintage Rug Aisle Decor
If your wedding style is going to be vintage or boho, you should definitely hop on the trend of using vintage designed rugs as part of your aisle decor. You can overlap the rugs and place them down the length of your wedding ceremony aisle. Once the rugs are in place, you can add greenery and florals if you wish, but the vibrant colors and designs of the rugs should speak for themselves. They'll look stunning in the photos of your boho wedding day!